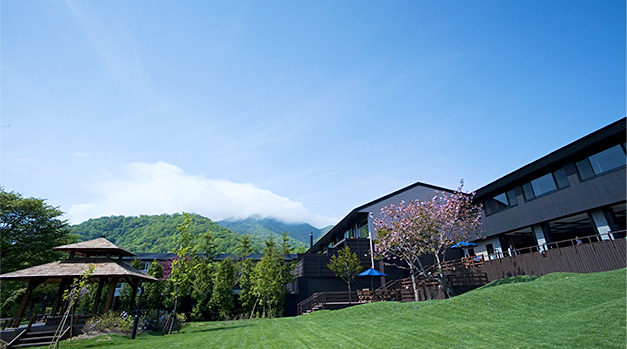 Good access also from Sapporo

Lake Shikotsu Tsuruga Resort Spa
MIZU NO UTA

The Lake Shikotsu Tsuruga Resort Spa MIZU NO UTA is located about 60 minutes by car from Sapporo-city of Central(Douou) Hokkaido, where is in Shikotsu-Tōya National Park, which also near and located about 40 minutes by car from New Chitose Airport(Sapporo Airport)in the south of Hokkaido.
Enjoy a relaxing holiday at the resort spa "Mizu no Uta" where you can feel the nature of Lake Shikotsu.

Lake Shikotsu Tsuruga Resort Spa MIZU NO UTA

Shikotsuko Onsen, Chitose-city, Hokkaido 066-0281, Japan

Tel.

+81-123-25-2211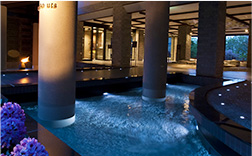 Access Information
by Hotel Free Shuttle Bus
/ *Only Reservation Guest

New Chitose Airport (Sapporo Airport)
JR Minani Chitose Station(JR南千歳駅)
New Chitose Airport(新千歳空港-CTS)
MIZU NO UTA
About 1 hour 15 minutes
The bus running sequence varies depending on the bus line.
Information Video of shuttle bus
"Chitose Liner"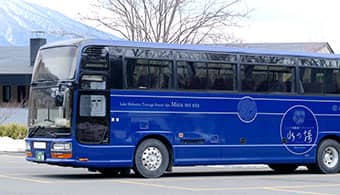 Please note that pick-up service need
a reservation 5 days in advance.
*Only staying guest(Not day trip guest)
[ Announcement of suspension a part of shuttle bus ]
From 24th Jan. to 16th Feb. 2020, only at Saturday, Sunday and Japanese Public Holiday (25th, 26th of Jan. and 1st, 2nd, 8th, 9th, 11th, 15th, 16th of Feb. ), our shuttle buses only No. 3 line of incoming bus and No.4 line of out going bus are not running.
Due to fireworks of "Lake Shikotsu Snow Festival 氷濤まつり" will be held during above days, it will be very busy and a heavy traffic jam by a lot of visitors's cars on these roads to Lake Shikotsu.
If you are planning to take a bus on these days, please take a earlier shuttle bus. We recommend you that arrival at hotel as early as possible. Please kindly note it in advance.
Timetable

Departure from Chitose area
⇒ Arrival at MIZU NO UTA

No.1

Chitose Station


(JR千歳駅)

Minani Chitose Station


(JR南千歳駅)

New Chitose Airport


(新千歳空港-CTS)

Hotel
11:05
11:20
11:35
12:15

No.2

New Chitose Airport


(新千歳空港-CTS)

Minani Chitose Station


(JR南千歳駅)

Chitose Station


(JR千歳駅)

Hotel
14:15
14:30
14:45
15:30

No.3

Chitose Station


(JR千歳駅)

New Chitose Airport


(新千歳空港-CTS)

Minani Chitose Station


(JR南千歳駅)

Hotel
16:25
16:45
17:00
17:50

Departure from MIZU NO UTA
⇒ Arrival at Chitose area

No.1

Hotel
Chitose Station


(JR千歳駅)

Minani Chitose Station


(JR南千歳駅)

New Chitose Airport


(新千歳空港-CTS)

8:00
8:45
9:00
9:15

No.2

Hotel
Chitose Station


(JR千歳駅)

Minani Chitose Station


(JR南千歳駅)

New Chitose Airport


(新千歳空港-CTS)

10:20
11:05
11:20
11:35

No.3

Hotel
New Chitose Airport


(新千歳空港-CTS)

Minani Chitose Station


(JR南千歳駅)

Chitose Station


(JR千歳駅)

13:20
14:15
14:30
14:45

No.4

Hotel
Chitose Station


(JR千歳駅)

New Chitose Airport


(新千歳空港-CTS)

Minani Chitose Station


(JR南千歳駅)

15:45
16:25
16:45
17:00

Bus Stops

Chitose Station(JR千歳駅)

In front of West Exit outside, shuttle bus stop is near Chitose Station Plaza building.

Minani Chitose Station(JR南千歳駅)

After leaving the ticket gate of JR Minani Chitose Station, proceed to Chitose Outlet Mall Rera on the right and get off the stairs. There is a bus stop.

New Chitose Airport(新千歳空港-CTS)

*Due to the Domestic Building's architectural style, from Domestic Arrival 1/2/3 Gate CANNOT go to south side directly. Guests must go to 2F Domestic Departure lobby firstly, then take a escalator near Departure C Gate go down 1F Domestic Arrival 4/5 Gate.
*Please wait at the bus stop where at the outside of domestic terminal building is on the first floor. Bus stop is on the left hand side immediately after going out from the #11 entrance at the domestic terminal.
*Our shuttle bus stops at an available space of the bus dedicated free parking area (No.1~10) at the next to the police station.

[To our guests]
*Please make a reservation 5 days in advance before your check-in date.
*Please note that the number of seats are limited and it will be handled on a first-come-first-served basis.
*When have No Reservations, the shuttle bus will NOT be running without prior notice.
*Basically, please take a shuttle bus operated Mizu no Uta and Ao no Za following timetable.
*For guests staying in the Executive Suite Villa room, we provide the pick up service (reservation only) to and from New Chitose Airport, please call at hotel directly TEL + 81-123-25-2211, not by email.
*Please note that hotel may not be able to arrange pick up service following your request, we will try our best for you, thank you for your understanding.

by Public Bus

*Operated by CHUO BUS

These buses runs between New Chitose Airport and Lake Shikotsu.

About Public Bus Information

"Meito Liner" Bus limited offer only in winter

/ *Only Reservation Guests using

Meito Liner Bus (名湯ライナー)

【ROUTE】Sapporo StationMarukoma OnsenShikotuko Onsen Area

Operation Schedule :

2019.11.1 - 2020.3.31

Reservation Only

Making a Meito liner bus reservation need to call at hotel directly at least 5 days before your arrival.

Tel.+81-123-25-2211
[09:00-20:00]

*We are sorry but we do not accept making reservations through email.

From 1st Nov. 2019 to 31st Mar. 2020, the Meito Liner bus runs between Sapporo Station and Lake shikotsuko Onsen area. There is only one round service in a day.

Please make a reservation at least 5 days before your check-in date. Call at hotel directly by Tel. +81-123-25-2211 [09:00-20:00]. Hotel does not accept making reservations through email.

Meito Liner Bus offers only about 10 seats can be booked with our hotel. This bus operated by SHIKOTSUKO ONSEN RYOKAN ASSOCIATION for neighboring facilities joint operation. All seats will be handled on a first-come-first-served basis.

Please note that the number of seats are limited and if it will be fully seats, please book our hotel free shuttle bus between Chitose area and Mizu no Uta. Our hotel shuttle bus also need reservation in advance.

The Meito bus will leave on time, so please do not be late. May be delayed due to traffic and weather conditions on the day.

Meito Liner Bus operated by SHIKOTSUKO ONSEN RYOKAN ASSOCIATION.
Information about "Meito Liner 名湯ライナー" : http://www.shikotsuko.com/english/access.html

JR Sappro North Exit

JR Sappro North Exit
(About 1 hour 50 minutes)
Marukoma Onsen
MIZU NO UTA

About 1 hour 50 minutes

Information Video of
"Meito Liner 名湯ライナー"

Sapporo ⇒ Marukoma Onsen ⇒ Hotel

Sapporo Station North Exit bus stop


(札幌駅北口バス停)

Marukoma Onsen
(丸駒温泉)
水の謌
MIZU NO UTA
13:30
15:00
15:20

Hotel ⇒ Marukoma Onsen ⇒ Sapporo

水の謌
MIZU NO UTA
Marukoma Onsen
(丸駒温泉)
Sapporo Station North Exit bus stop


(札幌駅北口バス停)

10:00
10:20
11:45

*The shuttle bus may be delayed due to traffic and weather conditions.
*Meito Liner Bus operated by SHIKOTSUKO ONSEN RYOKAN ASSOCIATION.

by Car

From New Chitose Airport

New Chitose Airport
Hokkaido Pref. Route 130 - Route 36 -
Hokkaido Pref. Route 16 - Route 453
About 40 minutes
MIZU NO UTA

From Sapporo

Sapporo
Route 12 - Hokkaido Expressway Sapporo Minami IC - Chitose IC - Route 16- Route 453 About 1 hour 10 minutes
MIZU NO UTA

From Chitose

Chitose
Route 16 - Route 453 About 30 minutes
MIZU NO UTA

From Tomakomai

Tomakomai
Route 276 - Route 453 About 30 minutes
MIZU NO UTA

From Asahikawa

Asahikawa
Route 48 - Hokkaido Expressway Asahikawa Takasu IC - Chitose IC - Hokkaido Pref. Route 16 - Route 453 About 2 hour 25 minutes
MIZU NO UTA

From Hakodate

Hakodate
Route 5 - Hokkaido Expressway Yakumo IC - Abuta-Toyako IC - Route 276 - Route 453 - Bifue Pass - Route 453 About 4 hour
MIZU NO UTA

From Obihiro/Kushiro

Obihiro/Kushiro
Route 241 - Doto Expressway Otofuke-Obihiro IC - Tomamu IC - Hokkaido Pref. Route 136 - Route 274 - Hokkaido Expressway Yubari IC - Chitose Higashi IC - Hokkaido Pref. Route 16 - Route 453
About 3 hour 25 minutes
MIZU NO UTA

by JR

From Sapporo Station

Sapporo Station(JR札幌駅)
by Rapid Airport Express About 30 minutes
Chitose Station(JR千歳駅)
by Car or Taxi About 30 minutes
by Public Bus About 45 minutes
by Hotel Free Shuttle Bus
About from 45 - 85 minutes
MIZU NO UTA

From Otaru Station

Otaru Station(JR小樽駅)
by Rapid Airport Express
About 1 hour 50 minutes
Chitose Station(JR千歳駅)
by Car or Taxi About 30 minutes
by Public Bus About 45 minutes
by Hotel Free Shuttle Bus
About from 45 - 85 minutes
MIZU NO UTA

From Asahikawa Station

Asahikawa Station(JR旭川駅)
by Limited Express Super Kamui
About 1 hour 55 minutes
Chitose Station(JR千歳駅)
by Car or Taxi About 30 minutes
by Public Bus About 45 minutes
by Hotel Free Shuttle Bus 
About from 45 - 85 minutes
MIZU NO UTA

From Obihiro Station

Obihiro Station(JR帯広駅)
by Limited Express Super Ozora
About 1 hour 50 minutes
Minani Chitose Station(JR南千歳駅)
by Car or Taxi About 35 minutes
by Public Bus About 50 minutes
by Hotel Free Shuttle Bus 
About from 45 - 55 minutes
MIZU NO UTA

From Kushiro Station

Kushiro Station(JR釧路駅)
by Limited Express Super Ozora
About 3 hour 25 minutes
Minani Chitose Station(JR南千歳駅)
by Car or Taxi About 35 minutes
by Public Bus About 50 minutes
by Hotel Free Shuttle Bus 
About from 45 - 55 minutes
MIZU NO UTA

From Hakodate Station

Hakodate Station(JR函館駅)
by Limited Express Super Hokuto
About 2 hour 50 minutes
Minani Chitose Station(JR南千歳駅)
by Car or Taxi About 35 minutes
by Public Bus About 50 minutes
by Hotel Free Shuttle Bus 
About from 45 - 55 minutes
MIZU NO UTA

Hotel Free Shuttle Bus

*only reservation guest
*The bus will leave on time. If you miss our hotel shuttle bus, please use other public transport by yourself.

Lean more

by Airplane

From Haneda /
Tokyo International Airport (Tokyo)

Haneda Airport(羽田空港) /
Tokyo International Airport(東京国際空港)
by Airplane
About 1 hour 30 minutes
New Chitose Airport(新千歳空港-CTS)
by Car or Taxi About 40 minutes
by Public Bus About 50 minutes
by Hotel Free Shuttle Bus About 50 minutes
MIZU NO UTA

From Kansai International Airport (Osaka)

Kansai International Airport(関西空港)
by Airplane About 2 hour
New Chitose Airport(新千歳空港-CTS)
by Car or Taxi About 40 minutes
by Public Bus About 50 minutes
by Hotel Free Shuttle Bus About 50 minutes
MIZU NO UTA