Enchanted by the sparkle of
Lake Shikotsu.
Lake Shikotsu, where the water with high transparency is beautiful, is a mysterious lake surrounded by primitive forests.
You can enjoy beautiful scenery and various activities that are fascinating every season.
Local Information
Green season
Lake Shikotsu is filled with clean water. This rare lake has beautiful waterfronts and a variety of spots and activities to enjoy it. Enjoy the scenery and water activities of Lake Shikotsu, such as "Clear Kayak" where you can experience the beauty of the best lake in Japan.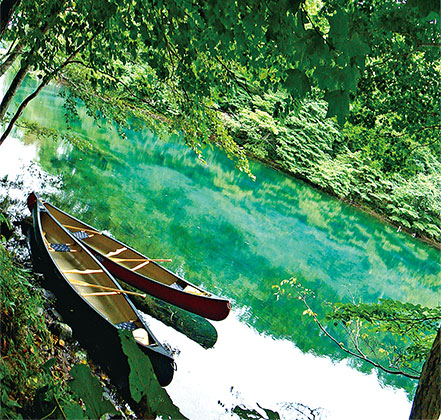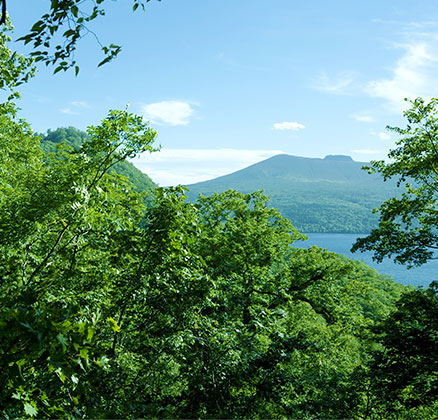 01Stroll around Lake Shikotsu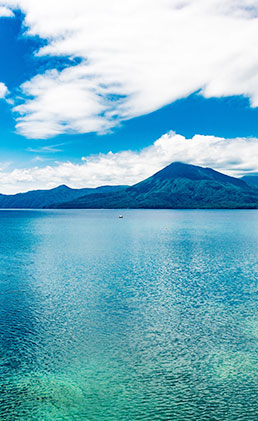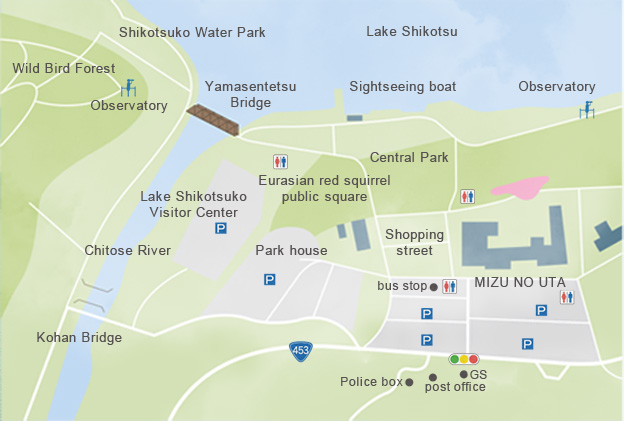 Within walking distance of the hotel, there are many spots where you can get a panoramic view of Lake Shikotsu.
If the weather is nice, you can also take a stroll along the lake.
In addition, the Lake Shikotsu shopping street of onsen area is lined with souvenir shops such as Ainu folk crafts, where you can enjoy meals of Lake Shikotsu's specialty.
Enjoy Lake Shikotsu and the forest
Please feel free to contact the front desk for details.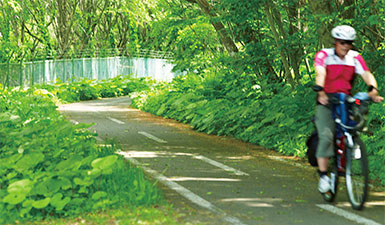 02Enjoy Lake Shikotsu
through activities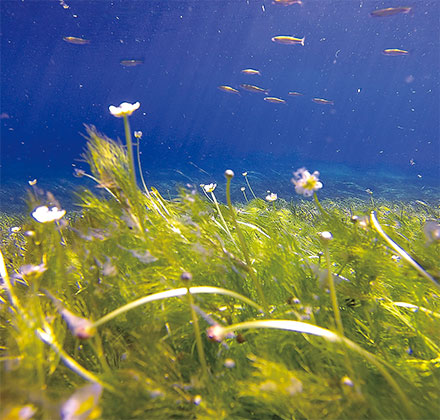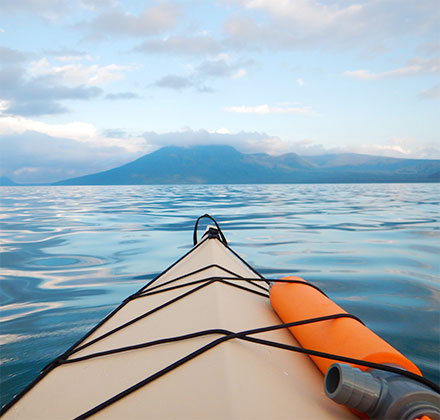 In summer, you can enjoy Lake Shikotsu from canoe, kayak and sightseeing boat where you can enjoy the beauty of Lake Shikotsu up close.
Diving and snorkeling in the clear lake that boasts the best water quality in Japan, you can enjoy beautiful underwater flowers and living creatures.
Activities
Sightseeing Boat

| | |
| --- | --- |
| Date | From middle of Apr. to early of Nov. |

Soto cafe Canoe Tour

| | |
| --- | --- |
| Date | From spring to autumn |

Lake Shikotsu River Snorkeling

| | |
| --- | --- |
| Date | From spring to autumn |
Snow season
Transparency is the best in Japan. One of the northern most non-freezing lakes and the best water volume and depth in Japan. The water of Lake Shikotsu, which has been filled with water, can be enjoyed only in winter. Enjoy the wonders of Lake Shikotsu's water, which is the origin of the water pond, and the natural charm of Lake Shikotsu in winter.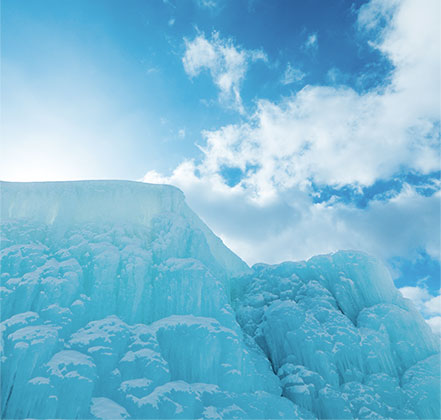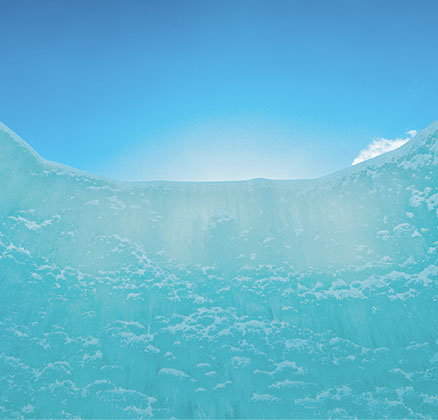 01Chitose・Lake Shikotsu
Snow Festival 氷濤まつり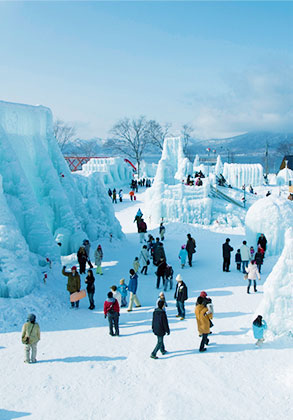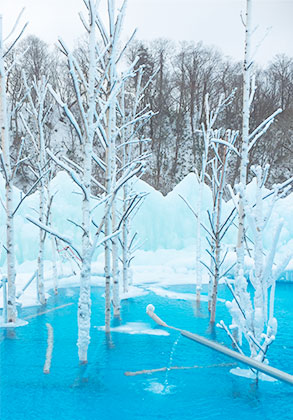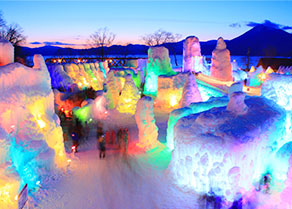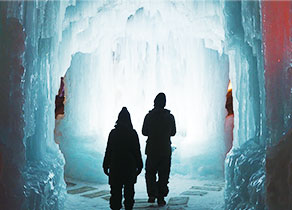 It is an annual event of ice and lights at Lake Shikotsu, and it is held from the end of January to the middle of February. Dynamic ice world is made by spraying the clear water of lake; it takes two whole months to make. The place is beside in our hotel Mizu no Uta, you can walk there.
It is entertaining, representative Hokkaido's winter festival as well as Snow Festival in Sapporo.
Lake Shikotsu, elegant blue
Almost all lakes in Hokkaido are frozen, and just like the wilderness, only the non-freezing lake, Shikotsu, reflects the blue sky and remains blue in winter. In cold and clear air, Lake Shikotsu Blue is beautiful. Lake Shikotsu at this time is particularly attractive.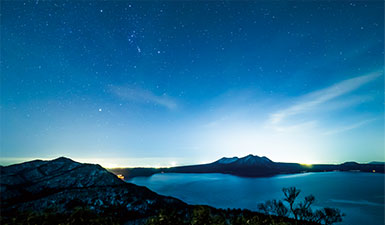 02Enjoy winter activities of
Lake Shikotsu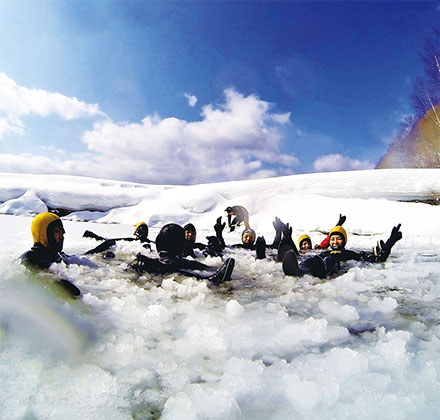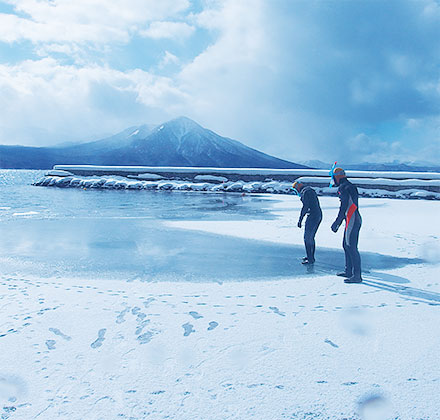 Winter is the season when the transparency of the lake increases and you can feel its cleanliness more. Wearing a dry suit, you can enjoy Lake Shikotsu activities without feeling much cold.
Experience that can only be done here.
Activities
Clear Kayak

Lake Shikotsu Diving

| | |
| --- | --- |
| Date | From 24th Dec. to end of Mar. |

Lake Walking

| | |
| --- | --- |
| Date | From Jan. to 20th Mar. |
03Stroll through the winter forest
to enjoy the cold winter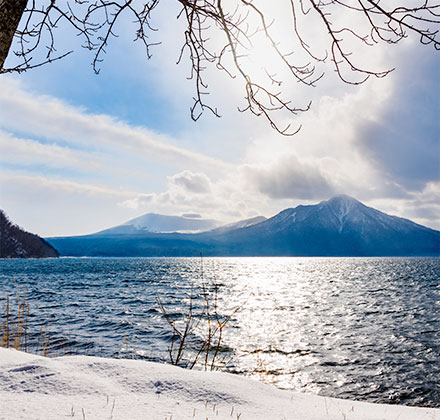 Wearing snowshoes and going out to the pure white winter forest that can only be enjoyed in winter.
"Snowshoe walking" is a place where you cannot walk in the bamboo grasses in summer, but in the winter you can go in from the snow.
Looking down on the blue Lake Shikotsu from the top of a small mountain, and "observing footprints" of animals such as deer, rabbits, and foxes are fun only in winter.
About Lake Shikotsu
Lake Shikotsu's climate and clothing
Please swipe