[ NOTICE ]
To reduce the risk of infection for guests and our staff members, some services will be suspended or closed for the time being.
Please be aware that in addition to the following, we may change the business contents and operate it with the safety of guests and our staff members as the top priority.

Sorry for this inconvenience.
Welcome Lounge "Wakka ワㇰカ"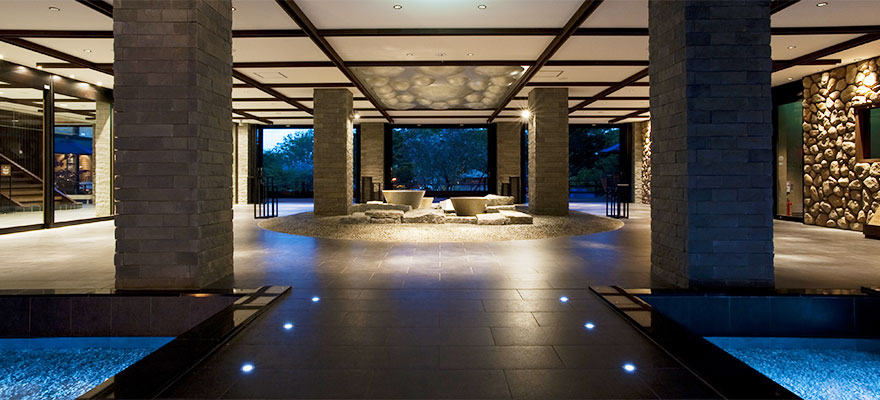 Welcome to "Mizu no Uta".
Please feel "the healing of water"
starting from here.
Welcome lounge "WAKKA ワㇰカ" means "water" in Ainu language. Lake Shikotsu is called "Shi・Kotsu" in Ainu language and means a large dent. As its name suggests, Lake Shikotsu was born by the eruption of Mt. Eniwa-dake, Mt. Tarumae-dake, and Mt. Monbetsu-dake. What kind of water sounds can we hear from Lake Shikotsu, which has a story of fire and water, and is surrounded by rich forests? Please fully feel the healing of water.
"Suikinkutsu 水琴窟"
At the center of the welcome lounge is a "Suikinkutsu" which stands as a tribute to the hotel's name MIZU NO UTA, it is traditional decoration in a Japanese garden generates a sound like the koto (Japanese harp) with drops of water.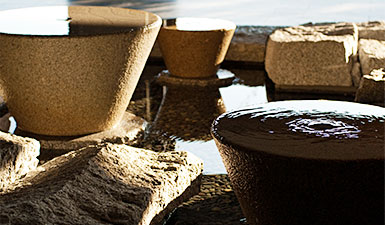 Foot Bath "Sou Sou no Yu 早々の湯"
Foot bath "Sou Sou no Yu" made of grass roof. In oriental medicine, there are various points on the human body. The best effect of foot bath is to improve blood circulation in the lower body. Foot bath improves blood circulation in the foot and improves blood circulation in the abdomen. It is said that the natural healing power of the body increases by improving blood circulation.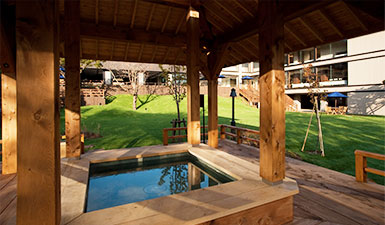 A corridor of water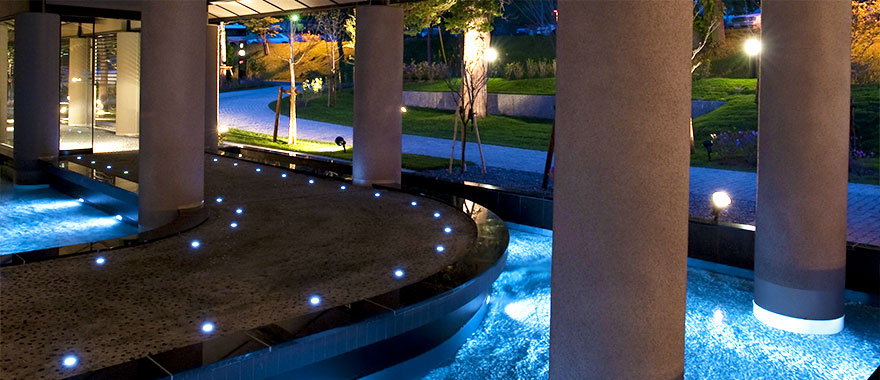 The corridor of water with the motif
of the nearby Chitose river
is an approach to a relaxing time
The corridor of water leading to the guest room zone has a comforting sound from "Suikinkutsu" of welcome lounge "Wakka". The journey of healing will begin by the sounds.
Doma Gallery 土間ギャラリー
Starting your stay with magnificent wood carvings "owl" at before the main entrance of room side.
Guest Lounge "Apeso アペソ"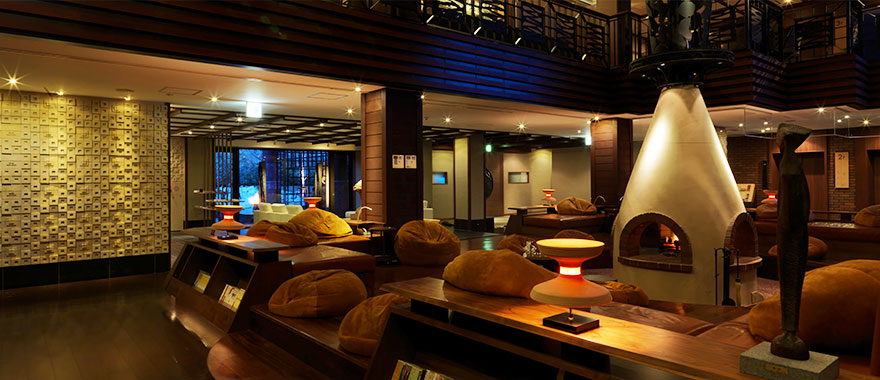 Spend a relaxing time while being drawn
to the mysterious power of fire.
"Apeso" means the hearth in Ainu language. "Ape" represents fire. Living in a place where there is water and surrounding the hearth is an unchanging activity since ancient times. Water and fire have played an important role in our lives. Former Ainu people gathered in the hearth to make smoked fish with firewood smoke and store it for the harsh winter. Relax slowly in the hearth "Apeso" while thinking about the ancient times.
Audio Corner
Comfortable time for adult with listening good music from JBL speaker unit.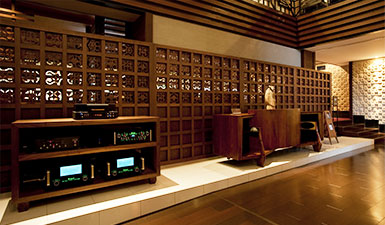 Library Gallery
We have books and photo collections of various genres, also works of Hokkaido and Lake Shikotsu. Take your favorite one and spend a relaxing time at the lounge.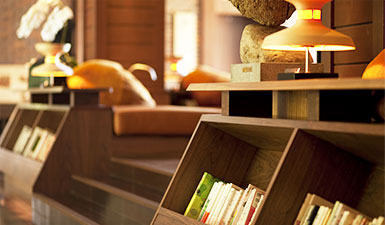 Harp Concert
Enjoy live harp performances in lounge.
Concert
Time
① 14:30~15:00
② 15:30~16:00
③ 20:00~20:40
④ 21:00~21:40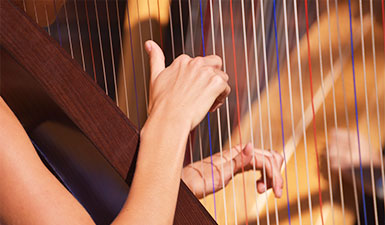 Cafe & Bar "Ape アぺ"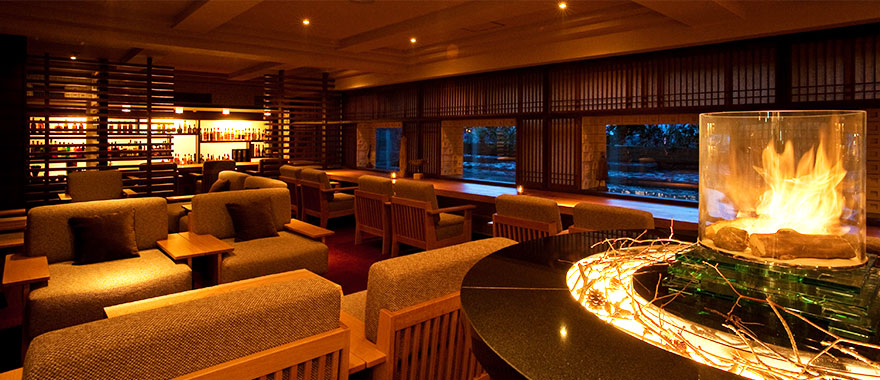 Have a fine time in the bar lounge
with the theme of fire and water.
Produce a relaxing space with a calm water flow from the counter. You can enjoy a relaxing adult time while tasting Mizu-no-Uta's original cocktails. You can spend it as a cafe at noon or as a relaxing bar at night.
| | |
| --- | --- |
| Open | 20:00~23:30 (L.O. 23:00) |
Sweets Shop Patissier Lab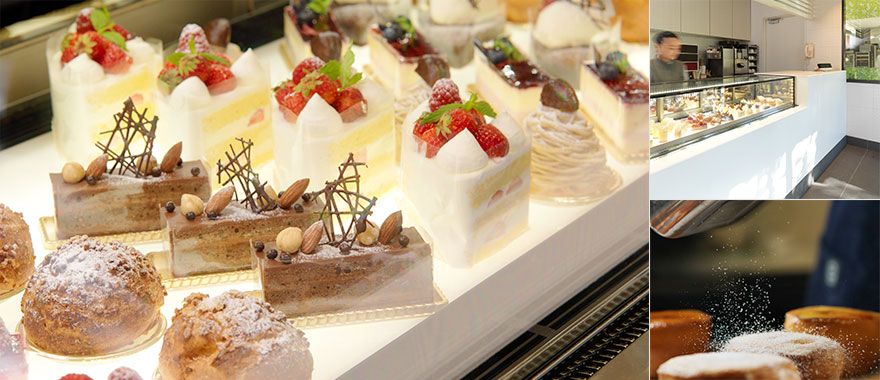 The sweets with plenty of love
from the local Hokkaido foodstuffs.
Eggs used in "Patissier Lab" sweets are from local Chitose. Dairy products such as whipped cream are also delivered lovingly one by one using plenty of foodstuffs from Hokkaido. There is a feeling to the guest that "Hospitality with sweets using foodstuffs from Hokkaido as much as possible". Because it is sold for take-out, it can enjoy in the hotel, on a wooden deck, or in a moving car. Please try out the beautiful sweets that the pastry chefs have made with all their heart.
| | |
| --- | --- |
| Open | 09:00~11:00 / 15:00~16:30 |
Shop "MIZU no NE 水の音"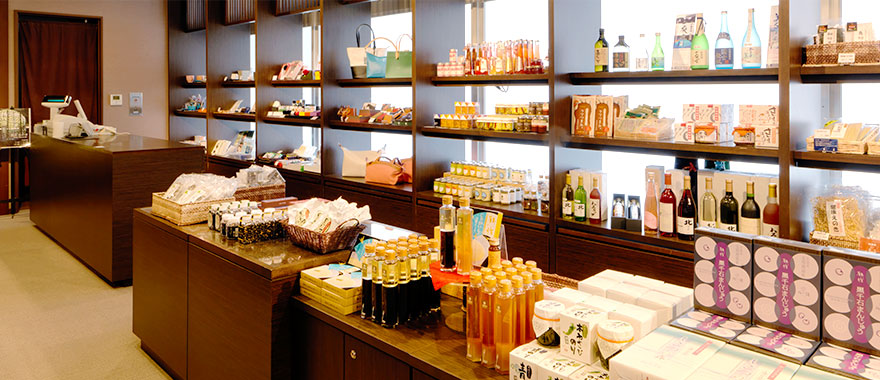 | | |
| --- | --- |
| Open | 08:00~11:30 / 16:00~22:00 |
"MIZU no Uta GARDEN"
(Hamburger Shop)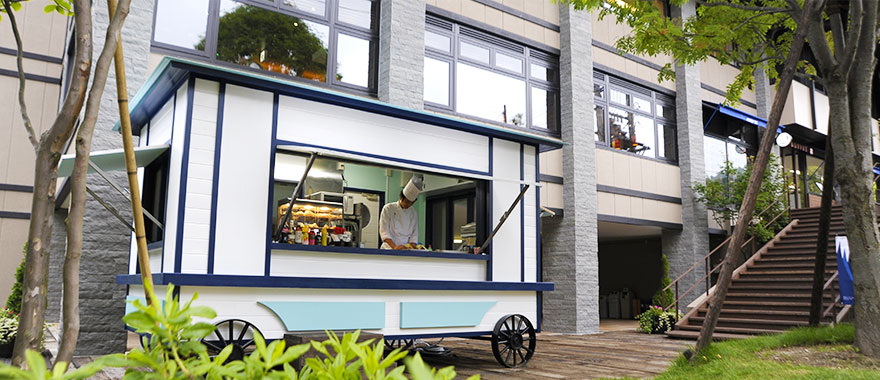 Chef's original hamburger made
with plenty of local foodstuffs
This is a summer-limited hamburger shop. We offer a variety of our original menus with plenty of food using Hokkaido foodstuffs, such as "Chitose Burger" using Chitose eggs or "Hokkaido Beef 100% Burger". Please enjoy them in a great location overlooking Lake Shikotsu. You can enjoy it at our garden or also take out.
Date
From around end of Apr.
until early of Nov.
Open only on Saturdays, Sundays, and holidays
Open
11:00~15:00
MIZU NO UTA "WORKATION"
*"WORKATION" = "WORK + VACATION"